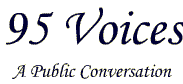 Schedule
Unveiling Ceremony
Wednesday, September 1st, 5:00pm
Steps of the New York Public Library
5th Ave. and 42nd Street, Manhattan
Interviewing/photographing sessions
Organizers and some of those interviewed will be available for comments and pictures.
Interviews and portraits are taken of randomly selected New Yorkers-- one session in each of the five boroughs.
Participants are asked:
What's one thing that concerns you today and what, if you had the time and influence, would you do about it?
Remaining sessions include
Thursday, August 5th, 6:30pm: Staten Island Whitehall Ferry Terminal, Manhattan
Sunday, August 8th, 2:00pm: Grand Army Plaza, Brooklyn, steps of Brooklyn Public Library
Saturday, August 21st, 11:30am: Yankees Stadium, Bronx, Bleacher Seat Entrance

For more information, please contact 95 Voices