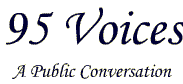 >> See latest Press Release <<
Both parties are using the term "values" in the name of Americans, but rarely are Americans given a voice to express what their values are. On Wednesday, September 1, at 6:00pm, 95 portraits of New Yorkers, along with their hopes for the future, will be unveiled in a sidewalk exhibit across from the New York Public Library's main branch (5th Avenue at 42nd street). Many of the participants in the interviews will themselves be holding the banners. Called "The 95 Voices," it will be a massive public voicing of the concerns of individuals at this moment in history and what they view as their priorities. This is a day to begin a conversation between the public and the leadership on what truly constitutes the hopes and desires of ordinary Americans.
The question to be posed to participants is as follows:
What's one thing that you're concerned about in the world today and what, if you had the time and the influence, would you do about it?
On October 31, 1517, Martin Luther is reported to have nailed 95 theses to the Castle Church door in Whittenberg, calling into question the practice of selling indulgences as a method to buy one's way into heaven. It was a peaceful but forceful statement, made in the name of the people, to the leadership of his day.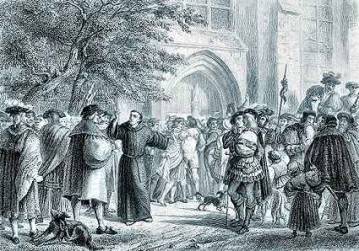 Home Your Voice Schedule Unveiling Press Contact Us About Us
95 Voices is independently organized and, though endorsed by citizen action groups, bears no political affiliation to either party.